All EFHS Students will be using a Schoology course named Back to School each morning for the next eight school days to complete important Asynchronous Work.
Each day a new folder will open up with important tasks to complete. (It is imperative that each student logs in each day and completes the required assignments as this will be used for attendance purposes.)
You are also required to complete any work that your classroom teachers ask you to complete doing this time.
NOW LOGIN TO SCHOOLOGY AND ENROLL IN THE BACK TO SCHOOL COURSE:
Please follow this link to Schoology Use your District email to sign in. 
Click on Courses on the top tab.Click on "My Courses"Click on "Join Class"Use the code V3WW-KFN2-XBHMV to enroll in the course. 
Below is the schedule of Asynchronous Work and Synchronous work that must be completed during the next two weeks.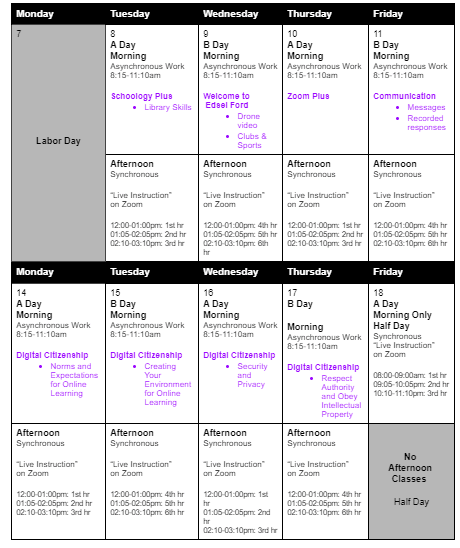 If you have questions about the Back to School Schoology Course work, please email Mrs. El-Mubarak or Mrs. Alaward.