Dear Edsel Ford Families,
So it has been a very busy week on the front lines and behind the scenes at Edsel. We gave out a lot of technology, books, and information during our 4 grade level pickups. The admin team and staff continue to work hard at learning Schoology and Zoom. Teachers are building their live lessons as we speak to prepare for the launch of live instruction next week. We wanted to give you some information on what to expect for next 2 weeks Tuesday, 9/8 thru Friday, 9/18. We thank you and ask you for your continued patience and support as our teachers begin their live instruction using Schoology and Zoom.
Starting September 8th, we are planning for teachers to hold live instruction through the Zoom platform. Students should plan on being live (virtually) every day from 12:00-3:10 pm as attendance will be taken and the audit policy applies. If students accumulate a certain number of absences- they will lose credit for that course.
Here is the schedule for asynchronous learning assignments and the synchronous "live" instruction calendar from Tuesday, Sept. 8th thru Friday, Sept 18th:
These Asynchronous modules will be uploaded to the EFHS Back to School course in Schoology
All EF students will be enrolled and assigned the modules with corresponding due dates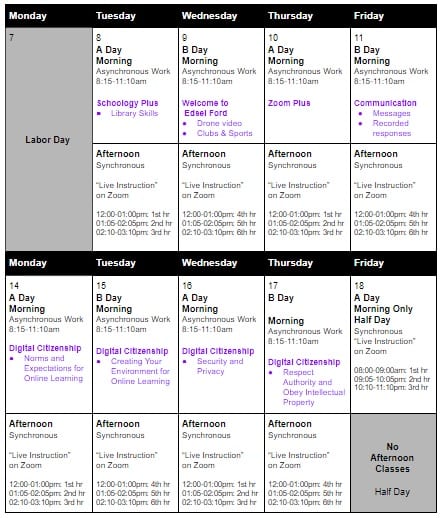 In an effort to streamline important information, we've attached five links for your convenience. We've also attached the district's expectations for all students.
Schoology https://dearbornschools.schoology.com/home
Zoom https://dearbornschools-org.zoom.us/
Parent Portal https://dearbornschools.org/parent-community-portal/
Daily Schedule https://efhs.dearbornschools.org/daily-schedule/
Parent & Student Tech Help Desk 313-827-8400
Reopening Remote Learning Student Expectations 20-21
https://docs.google.com/document/d/1-938u-gZnwrz6y7HemXGnq5iyfBPwuqu7X1wxUPpkkA/edit?ts=5f3f396c
Parents please note: The district has worked hard to make sure that students and teachers have what they need in order to hold live instruction starting on Sept. 8th for Edsel Ford. After that connection has been made – the district will connect parents to the platform and provide detailed information and steps on how parents can maximize their understanding and usage of the Schoology platform.
Finally, the 9th Grade Edsel team is working on a virtual Open House/Orientation. Date and time will be announced soon.
Thank you,
Scott Casebolt
Principal
Edsel Ford High School