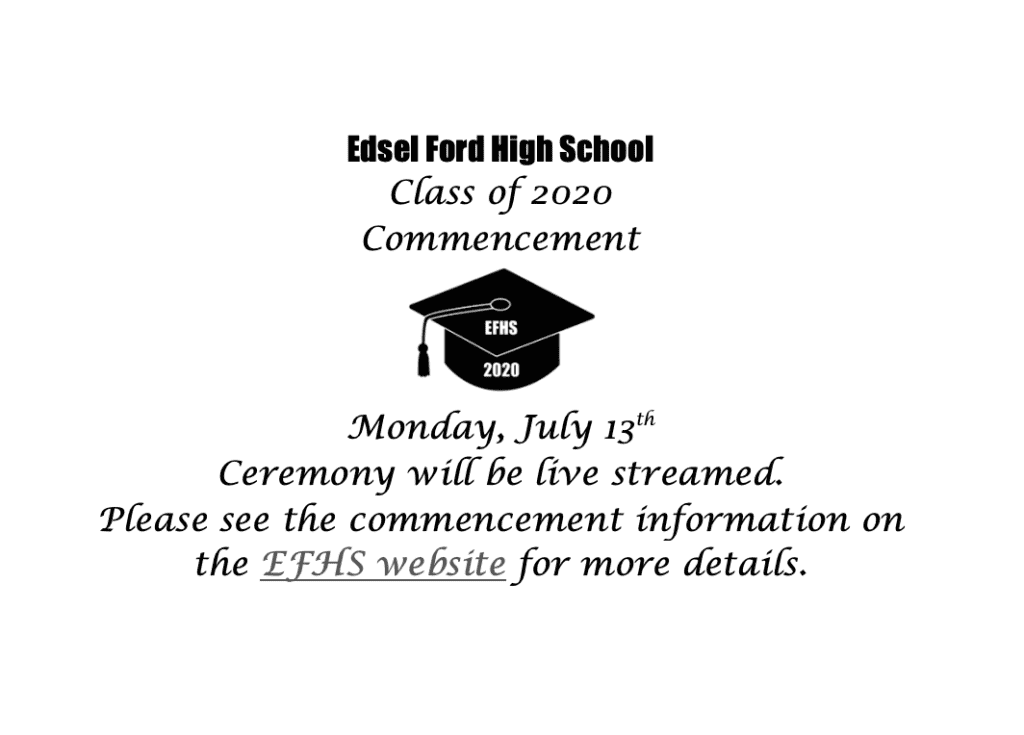 Dear Graduates & Families,
Edsel Ford's Graduation Ceremony is scheduled for Monday July 13th.  The ceremony will begin at 1pm and end no later than 5pm.  Each graduate has been assigned a scheduled Group # with a designated time to report that was sent to their school email account. It is imperative that you come during your time slot in order to adhere to our strict social distancing guidelines and time schedule. If you miss your time slot or do not have a mask, you will be asked to return at the end of the ceremony.  Masks must be worn at all times by each graduate and guests upon lining up.  Please bring masks with you or the graduate or guest(s) cannot enter the building. The graduate may remove their mask just prior to their picture being taken inside the auditorium- each graduate must put the mask back on immediately after the picture as they exit.  No Exceptions.
Graduates may bring two guests with them, no more, no exceptions. If more than 3 people are in the car, they may be turned away.
All traffic will enter and exit at the traffic light (Rotunda) to the student parking lot. Students will report in groups of 75 grads with their 2 guests, at their designated time (see student email). One graduate (in their cap and gown) and 2 guests will exit their vehicle parked in the student lot and start social distancing 6' apart by using the marked spaces from the parking lot to the EF Auditorium doors.
Our administration and staff are looking forward to making this more individualized graduation ceremony as memorable as possible for you and your guests.
Again, please be sure to arrive for your assigned time in order to adhere to our strict social distancing guidelines. These times cannot be changed for any reason. **If you do not report at your assigned time – you will be asked to come back at 4:30.
Additional Information:
All graduates will get a chance to walk the stage in cap and gown, have their name read, receive their diploma, be greeted by Administrators, Superintendent, dignitaries, etc. and have their photo taken with their guests in attendance.
Only 2 guests are allowed to attend with the graduate, no exceptions
When you arrive, you will park in the student parking lot and make your way to the small gym (making sure families remain 6 ft apart using clearly marked spacing) where you will get a name card and further instructions on the ceremony.
The ceremony will be live streamed by the district so family and friends can watch from the safety of their home or smartphone, and you can watch your friends.
Student speeches will be pre-recorded and streamed for all to see. One from your class president, and one from the speaker at large who was chosen by a panel of staff judges.
There are no tickets required for this event.
Scott M. Casebolt
Principal
Edsel Ford High School