Click the link to read the full article: High School Options event
From vocational programs to college credits or degrees, Dearborn Public Schools offers a number of ways for high school students to tailor their education to suit their needs.
Parents and students in middle or high school are invited to attend a live, virtual event on March 10 to learn more about our different high school programs. The High School Options event starts at 6:30 p.m. and will be shown live via the district's YouTube channel, Facebook page and cable television channel. Questions can be submitted during the program live on Facebook or via a Google Form.
Speakers will briefly explain each of the different programs, how to enroll and more during the hour-long event. Programs to be discussed include:
● Advanced Placement – These classes at our traditional high schools offer students the chance to take the national AP tests, which many colleges will accept in the place of certain classes.
Dual Enrollment – Dearborn leads the state in the number of high school students taking college classes for both high school and college credit.
● Career Technical Education and Michael Berry Career Center – The district offers a number of career classes both at our traditional high schools and at the MBCC on the Dearborn Heights campus.
● Dearborn Center for Math, Science and Technology – This half-day program offers a challenging curriculum for our advanced students interested in STEM Programs in college.
Also to be discussed are the four programs Dearborn Public Schools offers that combine high school and college. These five-year programs, ran in conjunction with Henry Ford College, allow students to graduate high school and earn their associate degree at the same time at no cost to the family. Those programs include:
● Henry Ford Early College Health Science allows students to obtain degrees in medical related fields.
● Henry Ford Early College Advanced Manufacturing focuses on technical fields such as drafting, automotive technology and mechatronics manufacturing maintenance.
● Henry Ford Early College Pre-Education lets future educators get a jumpstart on their chosen career path.
● Henry Ford Collegiate Academy allows students to attend their home high schools while pursuing a more general associate degree from HFC.
"Our motto of Students First means helping our teens explore different career paths, to give them space to explore their interests, and to help prepare them for life after high school, whether that is immediately entering the workforce or having a strong foundation as they head to college or a career program," said Superintendent Glenn Maleyko. "We hope this event will help students and parents better understand the options available to them so they can actively shape their student's education."
See the High School Options event flyer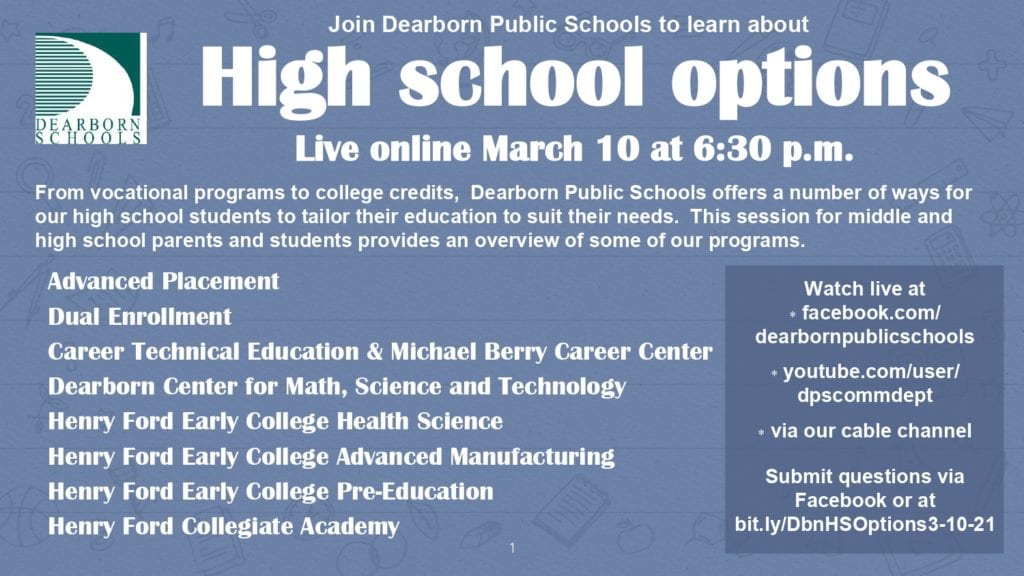 (ترجمة هذه الصفحة في الأسفل. إضغط على Select Language ثم اختر اللغة العربي Arabic.) Yasmeen Nasr Community Liaison  Edsel Ford High School 313-827-1535  nasry@dearbornschools.org