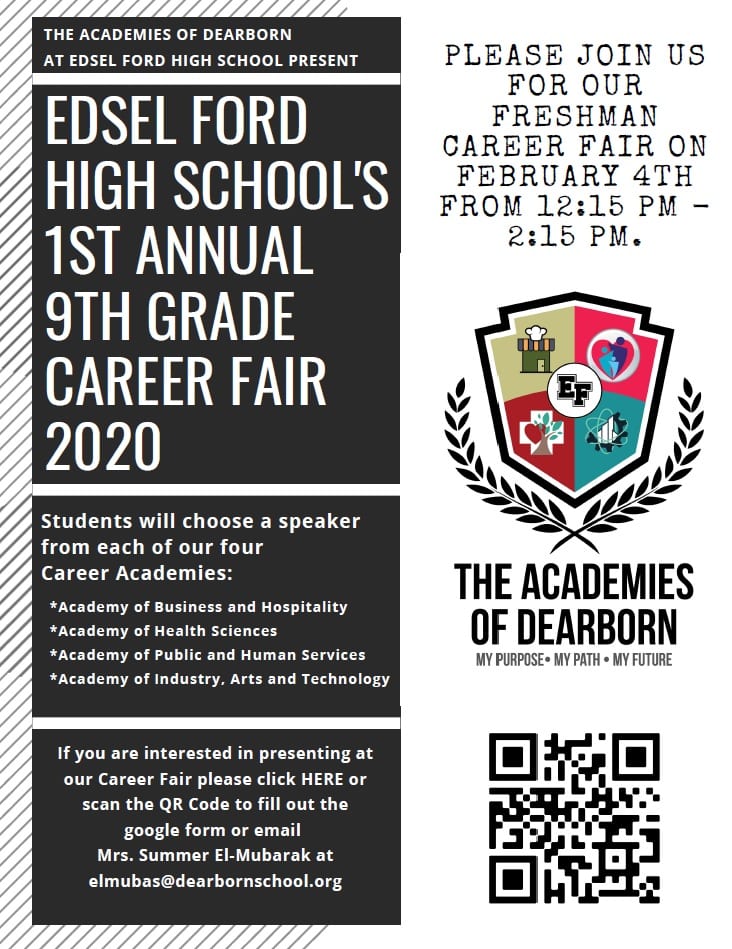 Please save the date:  February 4, 2020
The Academies of Dearborn at Edsel Ford High School will be hosting our 1st Annual Career Fair for our Freshman Class.
The Career Fair is an essential part of our 9th graders career exploration journey. They will choose a speaker from each of the following four Academies to learn from on this day:
*Academy of Business and Hospitality
*Academy of Health Sciences
*Academy of Public and Human Services
*Academy of Industry, Arts and Technology
We are seeking participation from multiple industry partners from each Academy to come share their career expertise with our students.
Our Career Fair is scheduled for Tuesday February 4, 2020. The event will take place at Edsel Ford High School (20601 Rotunda Dr., Dearborn MI 48124) from 12:15 pm – 2:15 pm.
If you have any questions, please feel free to email Mrs. El-Mubarak at elmubas@dearbornschools.org or call (313) 827-7296.
Here is a link to a Google Form for participants to sign up with: https://forms.gle/Gn9kB89MDgJe2jFP8
The link is also in the flyer if you choose to forward it to family and friends.